Hey Friends! I'm officially launching my Patreon! You can check it out here if you'd like to support me: www.patreon.com/slybonsai
June's theme is: New Wave Retro
The limited edition June-only Patreon exclusive pin will be the pin as pictured. I was inspired by a recent trip to New Mexico and my love of Japan aesthetic to create this retro literal "New Wave." The pin itself will be 1.4" in width, will be hard enamel, rose gold plating, and feature screen printed details. The monthly art print is being worked on currently and you can see my work in progress and more if you subcribe to be a supporter! Being a supporter means the world to me as it helps me have access to create and provide awesome work for you!
What's a Patreon? 
Patreon is a way to join your favorite creator's community and pay them for making the stuff you love. You can pay a few bucks per month to support me, and in return I'll be hosting a bunch of rewards for doing so! I'll be hosting an exclusive monthly art club offering pins, prints, and more. Hope to see you there! 💕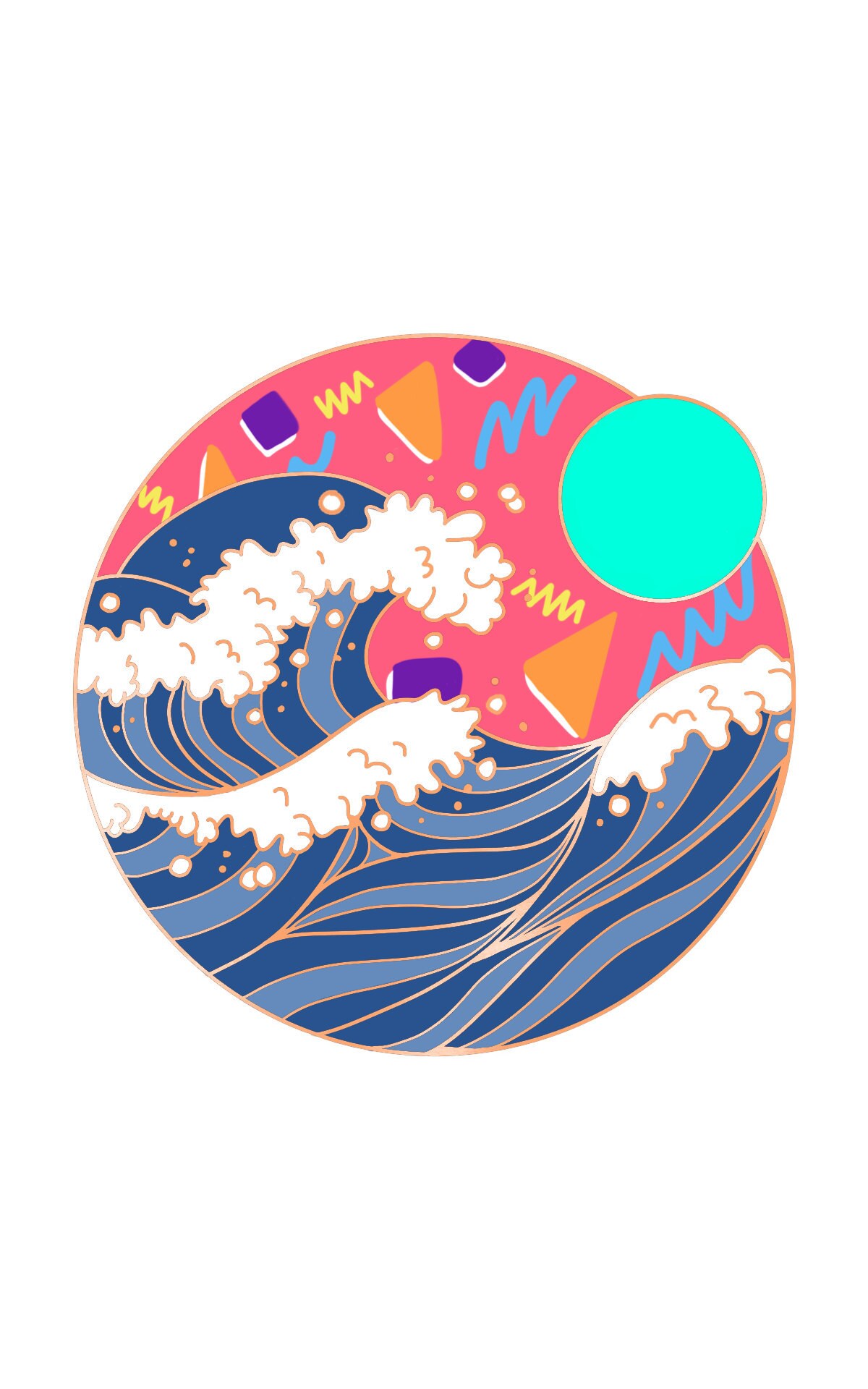 ___________________________________________
 One of my favorite things to create is enamel pins! I love to collect pins myself (it's more of an obsession, really) and think that enamel pins are a perfect way to support artists you love! Collecting large scale art prints or other works can be costly and take up a lot of space- but with pins they are small, easy to carry, and can be beautiful wearable art to support your favorite artists. My little art club will focus on providing Patreon exclusive content in exchange for your love and support! 
CLUB DETAILS:
All Tiers have shipping included in their monthly subscription price! For International supporters, please be sure to sign up for your International Tier so shipping can be handled accordingly. ♥ For those signing up to Patreon, THIS IS WHAT YOU CAN EXPECT...
SHOP DISCOUNT CODES available for supporters to use for purchases in my shop! 
SNEAK PEAKS AND PROGRESS PHOTOS/VIDEOS are going to be posted on here that won't be posted anywhere else! I'll be posting all my progress photos and time lapse videos here only! 
TUTORIALS on my artistic process, how to run a business, enamel pins, or anything you guys are really interested in!
EXCLUSIVE PRINTS, ENAMEL PINS, AND MORE will be rewards available to those who are my Patreon supporters!
INTERACTIVE PATREON CONTENT You will be able to have a say in what the theme of the art club rewards will be each month! 
GIVEAWAYS Once a month I'll be doing a giveaway of various extra items from Patreon and more on my Instagram! (Follow me ) 
... And as I get the ball rolling there may be more to come! At the end of the day, you don't have to be part of Patreon, this is just a unique way to get exclusive content, watch my art progress and grow, and support me so that I can create and provide my art to you! I will do my very best to be entertaining and make sure you absolutely love all the content you get and I'll do my best to make you feel like Patreon is all sorts of worth it!   ________________________________________
FAQ: ♦ Is the content on Patreon exclusive? Yes! The content posted here on Patreon is exclusive. All physical rewards in the monthly packages (Prints, Pins, etc.) are exclusive to Patreon. If there is a reward you'd like to obtain, you will need to pledge as a supporter to get that months' content. IF there is any excess stock, the only other way to get the Monthly Art Club content would be at conventions, fairs, events. 
♦ What if I join on the 1st of the month? If you join on the 1st of any given month your card will not be charged until the 1st of the following month and you would receive access to the following month's rewards. The last day to sign up and receive art club benefits would be the final day of the month prior. So if you are interested in June's rewards, you would have to sign up between May 1st - 31st to receive a reward. 
♦ When will my credit card be charged? Patreon begins to process payments at the 1st of the month. It may take a few days to process completely. Monthly pledges are renewed automatically on the 1st of each month as well. You are always free to cancel your pledge at any time. 
♦ When will my package ship? Rewards will ship out within the first week of the month.  (ex. You will have from May 1st-31st to sign up for June's reward. Your June reward will be charged on June 1st. Your reward will ship out within the first week after you have been charged.) Packages are mailed out using USPS First Class Mail in poly bubble mailers or via USPS Standard Postage envelopes. Members are responsible for providing a valid address for shipment. *If there are any delays or problems, I will be sure to immediately communicate that with everyone. 
♦ When do I get the discount code? Discount codes are rewarded the same as physical packages. A discount code will be sent within a few days after payments are processed at the start of the month. You will not receive discount codes until after your card has been processed, unless otherwise posted.
♦ Does my package ship with a tracking number? For my $5 tier, your rewards will be shipped using USPS Standard Postage envelopes and will not have tracking. However, if there is any extended delay or problems please feel free to reach out and we can see what we can do. For all other tiers, Yes! When your reward package is shipped, you will be notified via email with a shipping notification and a tracking number. Domestic and International members will receive tracking. 
♦ I didn't get my tracking number for my Patreon Package! What happened?? Please make sure your email on file is one you access frequently as that will be the email we will be sending your tracking number or updates to. Also be sure to check your spam folder! 
♦ I just signed up to Patreon, can I get rewards from all previous months? At this time, you can only receive rewards for the months that you were pledging.
♦ I have a question, concern, or problem!  Please feel free to email me at:  and I'll be happy to assist you!